Makkays Internship Program 2016
Makkays Internship Program 2016: Seeking for hard working, self motivated, professionals, determined, dynamic and well disciplined staff for different vacant positions such as  following.Kindly read carefully and apply in appropriate vacancies accordingly.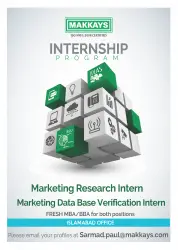 Makkays is looking for Enthusiastic Marketing Fresh Graduates for the following Positions in Marketing Department for our Islamabad Office
1.Marketing Research Intern.
2.Marketing Data Base Verification Intern.
Both MBA /BBA Positions
Interested Graduates may apply at [email protected]
Makkays Internship Program 2016