Get Latest Jobs Via Email
Part 7 : Printing (Lesson:62 Printer Properties)
Part 7 : Printing (Lesson:62 Printer Properties)
We then saw all the steps necessary to send a print, but we still a step back, under Printer/plotter area on the print window.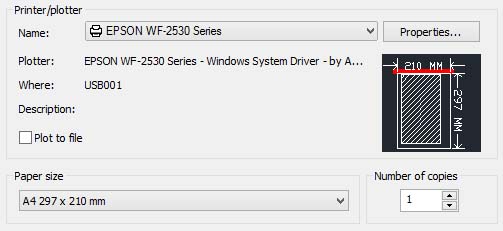 In this section we can choose a printing device among those available to our PC.
These printers will then be already installed on your operating system and usually can also be used with programs other than AutoCAD.
Normally these devices are already set about the paper size, print quality, color, etc.. which, if we want, we can modify by clicking on the button "start" of "Windows" and then on "Printers and Faxes" then open the system folder where we see the installed printers.
Then select the printer in question and clicking it right, then the item properties and then click "Printing Preferences", enter the interface where the printer has its own basic settings.
In Autocad when we choose a printer on the print window, we will use the basic setting of this device.
But if we do at this point click on "Properties" button, will open the following dialog: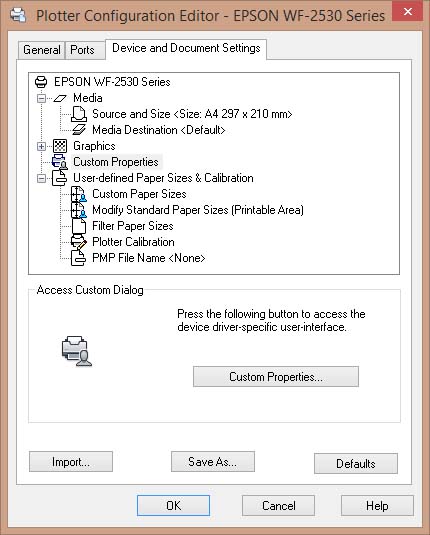 On this, if you click on "Custom Properties" enter directly into the printer interface, where you can change the settings of this, i.e. print quality, use of color, paper sizes with custom sizes, etc.
However, these settings can not override the "basic" set in the operating system, if we modify it when we click OK to confirm and exit the window "Custom properties", pops up the following request: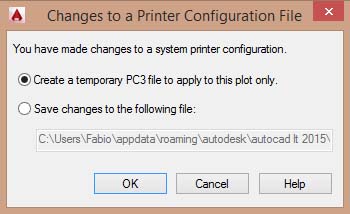 This dialog asks whether to save the settings you just made on a temporary file that will be used only for one printing, or by checking the second item will be saved to a file of .PC3 extension.
If you choose this second option and pressing OK will save a copy in Autocad printer driver with our custom settings.
This copy will be present between the output devices usable by AutoCAD but will be represented by a different icon and at right of the name will have the extension. pc3

This allows us to have some custom print settings regardless of the base of the printer set on "windows" that this will remain unchanged.