Get Latest Jobs Via Email
Part 5 : Object Properties (Lesson:44 Properties)
Part 5 : Object Properties (Lesson:44 Properties)
"Properties"
The "Properties"

is on the "standard toolbar":

Clicking this button will activate a kind of vertical toolbar that contains a window where they are given much information.
We see it in the following image: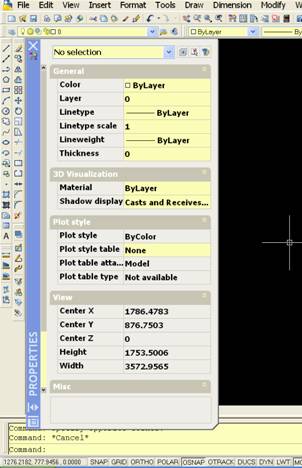 This window can be moved from either side of the screen and clicking the arrow at the bottom, under words "properties", open and close the side window with information about objects.
In fact, if we select an object and then we go on this window, we will show a range of information that is precisely the "properties" to the object that we have selected.
As you see above are the entries for the color, layer and linetype.
Clicking on the value of these items can also change from here in the same way that we saw in previous chapters.
The fourth item are "Linetype scale" , where we can put a numerical scale factor for the type of line used.
This scale value entered here, however, is relative to each selected object and is independent of the value set in the variable "LTSCALE", or rather acts in addition to this.
To close the Properties window, just click again on the command

 or the X at the top of the relative window.